Readers' Choice Awards 2023
The voting begins!
We are very pleased to announce that we are once again one of the nominees in this year's readers' choice of eGovernment, the trade journal for the digitization of administration and public security.
We invite you to participate in the 2023 Readers' Choice Award survey. With your vote, you can support your favorite from a broad selection of providers of eGovernment solutions and services in a wide range of categories. Of course, we would also be delighted to receive your vote in the "Identity and Security" category!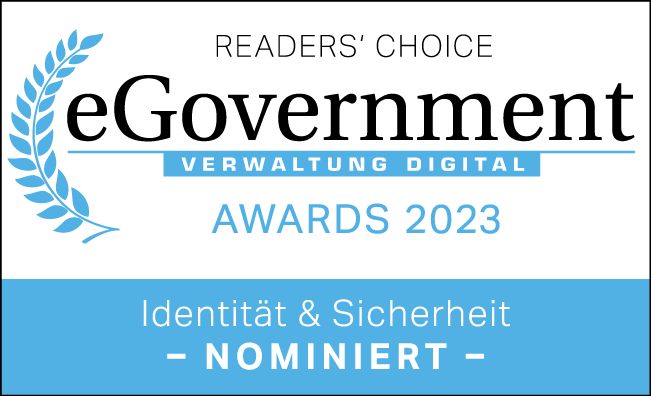 The voting period runs from now and ends on 28.07.2023. To participate in the voting, click here.
The eGovernment Award ceremony will take place in autumn 2023 at the Waldorf Astoria in Berlin and we hope to prove ourselves again in our category!
A little know-how about the awards: In September 2016, the eGovernment Awards were presented for the first time under the patronage of the Federal Government Commissioner for Information Technology, State Secretary Klaus Vitt.