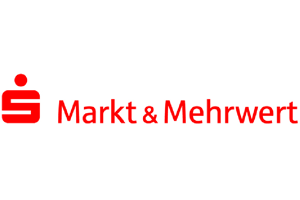 S-Markt & Mehrwert (S-MM) offers comprehensive market and value-added services for savings banks, their alliance partners and other companies.
The company stands for market proximity and entrepreneurship, for new beginnings and continuity, and for innovation and quality. Every day, more than 1,300 employees at the main sites in Halle (Saale) and Düsseldorf, as well as at seven other locations, are committed to this.
By bundling market-oriented services in customer service, marketing, and sales, S-MM opens up a wide range of usage options for realizing efficiency and growth targets and implementing individual market development and digitization strategies.
As a partner with a high level of savings bank and association partner expertise, S-Markt & Mehrwert thus contributes to making the companies in the Sparkassen-Finanzgruppe more attractive and successful for their customers.
Contact
S-Markt & Mehrwert GmbH & Co. KG
Grenzstraße 21
06112 Halle
Tel.: +49 345 569 8990
E-mail: info@s-markt-mehrwert.de
www.s-markt-mehrwert.de