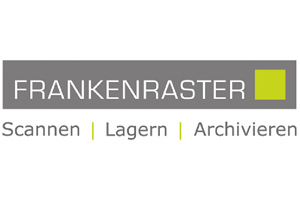 When it comes to scanning, storing and archiving your documents, files, X-ray images, microfiches, plans or drawings, FRANKENRASTER has been your reliable service provider since 1996.
The digitization of your cultural assets is also handled by a team of specialists.
More than 60 employees at our company locations in Buchdorf and Vienna currently ensure that you can work flexibly and devote yourself to your core business - no more paper chaos, no more lack of space and, above all, no more tedious searches for documents.
FRANKENRASTER is your reliable partner for everything from project planning, document logistics and digitization to archiving or data protection-compliant document destruction.
The fact that the protection of your data and documents is our top priority is demonstrated not only by our certifications in accordance with the strict international data protection guidelines ISO/IEC 27001 and DIN ISO 9001, but also by the daily practice in our company.
Contact
Frankenraster GmbH
Albert-Proeller-Strasse 15
86675 Buchdorf
Stefan Messner
Tel: +49 | 9099 | 966 44-0
E-Mail

Back to partners