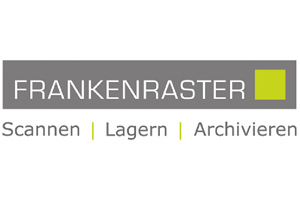 When it comes to scanning, storing and archiving your documents, files, X-ray images, microfiches, plans or drawings, FRANKENRASTER has been a reliable service provider since 1996.
The digitization of the cultural assets is also handled by a team of specialists. More than 60 employees at the company's locations in Buchdorf and Vienna ensure that customers can work flexibly and devote themselves to their core business - no more paper chaos, no more lack of space and, above all, no more tiresome searches for documents.
From project planning, document logistics and digitization to archiving or data protection-compliant document destruction, FRANKENRASTER is a reliable partner.
Contact
Frankenraster GmbH
Albert-Proeller-Strasse 15
86675 Buchdorf
Stefan Messner
Phone: +49 9099 966 44-0
E-mail: info@frankenraster.de
www.frankenraster.de